Posted on: 09/03/2022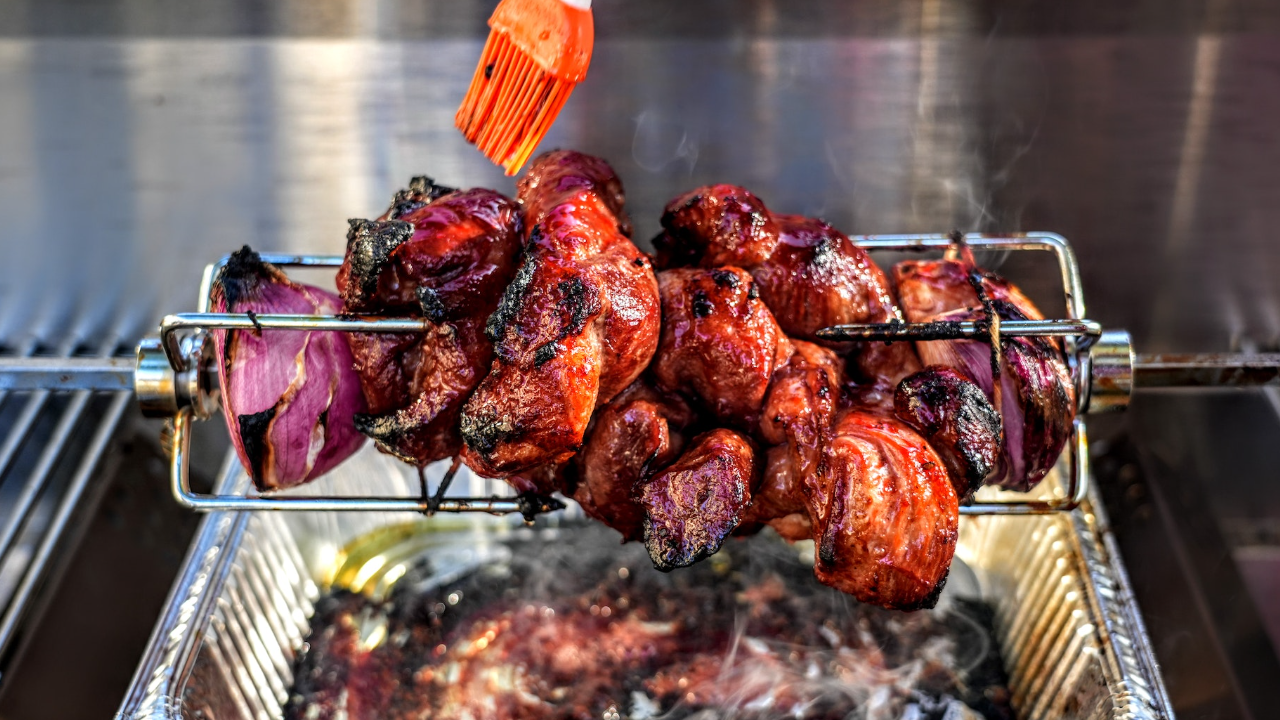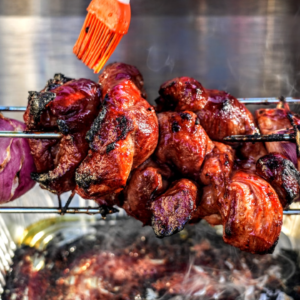 Char Siu 叉燒
Char siu (叉烧) is a type of Cantonese roast meat. Char siu (or slightly different spelling, cha siu) is its Cantonese name, but in Mandarin, it is known as cha shao. To make char siu, pork is marinated in a sweet BBQ sauce and then roasted.
Ingredients
3 pounds boneless pork shoulder/pork butt
¼

cup

granulated white sugar

3

tbs

brown sugar

¼

tsp

white pepper

½

tsp

 sesame oil

1

tbs

red wine vinegar

1

tbs

soy

2

tbs

hoisin sauce

2

tsp

red food coloring

2

cloves

chopped garlic

3 tsp

tsp

honey
Instructions
Clean up Pork
Remove any silver skin or hard fat.
Marinade
Combine all ingredients for marinade.. Reserve some for bastin

Marinade pork 8 Hrs or over night!
Cook
Preheat your pit to 300 F

Set your grill up for rotisserie cooking at medium-low heat (300°F).For my Monument gas grill I remove the grill grates and put the drip pan on the burner covers in the middle of the grill. Then I turn burners 1 and 6 to low/med, to maintain 300f. Once the grill is going, I adjust the burners to keep the temperature between 300°F-325f

Rotisserie the roast to 165°F: Put the spit on the rotisserie, and cook with the lid closed. Cook the pork roast until it reaches 165°F to 170°F in the thickest part of the meat, about 3 to 4 hours. (I recommend cooking to temperature using an instant read thermometer, because the time will vary depending on conditions and the thickness of the roast.) If you are using an infrared rotisserie burner, turn it off after the roast is browning nicely, about 45 minutes, and let the burners in the body of the grill finish the cooking.

Rest, carve and serve: Remove the spit from the grill and cut the twine away from the roast. Rest the roast for 15 minutes, then slice into ½" thick slices. Serve and enjoy!